If you are wondering which cities in the US are Pickleball Obsessed check out this list! These are the most popular cities in the US that play pickleball.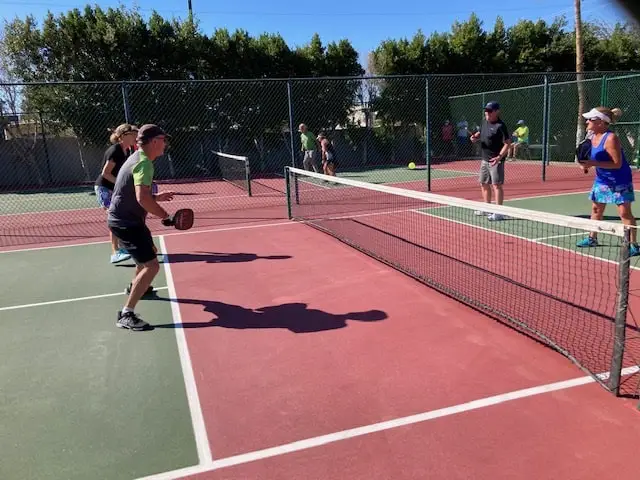 Over the last few years, pickleball has become one of the fastest-growing sports in the United States and they call the sport as "highly contagious". In fact, pickleball has had a 650 percent increase in numbers over the last six years according to USAPA or the USA Pickleball Association. Due to its growing popularity in the US, several parks and recreations are now adding pickleball to their sports programming. 
Pickleball was first invented in 1965 by three fathers – Joel Pritchard, Bill Bell, and Barney McCallum in Bainbridge Island, which is a quick ferry ride from Seattle, Washington. So of course you know that Seattle is on the top of the list!
Seattle, Washington
Seattle is one of the top destinations for pickleball in the US. This also where the famous Pickleball Station sits and it is considered as one of the best and favorite pickleball courts in the country. This court is also the first dedicated commercial pickleball facility in Seattle. So, if you wanna flex your skill in Pickleball playing, this is the best place in Seattle. 
Aside from their world-class facility, this pickleball station is also the home for pickleball equipment and lessons in the Seattle area.They also provide clinics and lessons led by 5.0 rated teaching professionals. 
Phoenix, Arizona
You should expect to see a lot of Pickleball training camps in Phoenix Arizona. This city is overflowing with a lot of training camps for players of any skill level. These camps are designed for players who are seeking high-quality training programs from world famous coaches. 
There's also Green Valley Recreation in Arizona where it currently has 12 outdoor pickleball courts that sit in the middle of the Arizona desert. In January 2019, they received approval to expand their facilities, making them the largest pickleball facility in Southern Arizona. So you can expect to see a lot of improvements from their already excellent courts!
There are also a number of villages in the Phoenix metro area that have pickleball courts. My parents live in Mesa in the winter and their village has 8 pickleball courts. And of course when you throw in the perfect weather in Phoenix you can really play year round.
Madison, Wisconsin
Last 2016, Madison opened its first dedicated pickleball courts at Graner Park on the west side. Due to the growing popularity of Pickleball across America and calls from a growing Pickleball enthusiasts in Madison, the Madison Parks Division has allocated a budget for developing permanent courts. So if you are in the area, time to flex your mastery in Pickleball.
Garner Park is considered as the home of Madison's dedicated pickleball courts. But there are over 20 places to play in the Madison area aside from the Garner Park. 
I learned to play pickleball in central Wisconsin so I know there are plenty of places to play. My small town of 20,000 people has recently added 10 pickleball courts. Its really the fastest growing sport at the moment.
Minneapolis, Minnesota
Pickleball is enormous in Minnesota. A number of "snowbirds" travel to the south for the winter and bring this family-oriented sport back up north and that's how Pickleball just exploded in the other parts of the US. But in Minnesota, there are several pickleball groups that meet up and promote the sport to other folks. In fact, there are three (3) USAPA Ambassadors within Minneapolis City that will teach you about the sport. 
Minneapolis, there are four (4) Pickleball Clubs namely: Albert Lea, Mankato Area, Pickleball Minnesota, and SW Metro Pickleball Club. You can play with your folks, families, and even strangers here. 
Chicago, Illinois
The fast growing popularity of pickleball has reached Chicago and became a favorite of many Chicagoans of all ages. There are currently 14 pickleball court locations in Chicago, Illinois. 
In Hinsdale parks, which opened in 2019, Pickleball has become a popular sport to play particularly in Brook Park where there are pickleball courts available. The locals and residents alike flock to this place and start playing from 6:30 am until 7:30 pm. There was even a survey conducted by the village parks and recreation department asking people about pickleball and some people even asked that they offer more open time in using the courts. This only shows how this sport has influenced a lot of Chicagoans. 
Omaha, Nebraska
Pickleball has been a sport loved by many Nebraskans since 2011. The City of Omaha Parks and Recreation has created a pickleball page where locals can actively engage in the local tournaments through a Facebook page. 
They even have a Nebraska Pickleball annual meeting that they treat as a family affair with lots of food, fun, and pickleball play. Outsiders are also welcome to play here and if you are interested, you can play for a friendly competition in their tournaments.
Lincoln, Nebraska
Another Pickleball hotspot in Nebraska is the capital city of Lincoln. This city has a lot to offer for all Pickleball enthusiasts and pros. A passionate group of pickleball enthusiasts has partnered with the Lincoln Parks Foundation to convert two tennis courts in Peterson Park to six pickleball courts for the public to use. 
You can also hear the name of the 71 year old Bill Roehrs who helped grow the pickleball community in Lincoln. He also teaches beginners especially in the summer. And the list of regular players of Pickleball is very diverse – from grandfathers to grandchildren, and people who want to stay active. 
Virginia Beach, Virginia
Pickleball has become one of the most popular sports in Virginia Beach. Most locals and residents alike play at the Princess Anne Recreation Center where the sport appeals to people of all ages. Players can compete in singles or doubles and sometimes it can gather up to 35 people to play at the recreation center. 
Aside from Princess Anne Recreation Center, there are also other recreation centers and some outdoor parks in Virginia Beach where you can play pickleball. And what's really amazing in this place is that the City of Virginia Beach also offers pickleball at all of its recreation centers and they even have courses for beginners. You can also check out some of the tournaments that they offer at a fee. 
Chesapeake, Virginia
Aside from Virginia Beach, pickleball has also dominated the City of Chesapeake. This sport is a growing and legitimate sport played by locals at some recreation centers in Chesapeake. For 13 years, the City has held a tournament that invites players from across the state and beyond. 
You can check out Deep Creek Community Center and River Crest Community Center as these are among the places to play in the city. 
Plano, Texas
The courts of Carpenter Park Recreation Center are in full swing as they are filled with players who are enthusiastic to play pickleball. This sport has developed a growing craze among residents and locals in Plano, Texas. And one of the many reasons why locals love to play this sport is that it's easy to play. It's not as aggressive as racquetball or tennis and it doesn't require much movement. 
The popularity of pickleball has started in Plano at Oak Point Recreation Center and there were only eight to ten residents who started playing this sport. And from there, those residents started recruiting other people until the game spread like a wildfire. According to many residents, this sport has provided them health benefits and social perks. You can meet some new people plus you get a good work out. 
Honolulu, Hawaii
For locals in Honolulu, pickleball is like a medicine and a fun way to get healthy. It's super easy to learn and you don't need prior skills to play this sport, and all you need to have is a positive attitude. 
The City & County of Honolulu Department of Parks and Recreation have repurposed existing tennis and volleyball courts for pickleball. They also have the Oahu Pickleball Association – a non profit organization that helps promote and grow pickleball around Hawaii and across other states. They also conduct classes, clinics, and workshops for beginners and enthusiasts with the help of their dedicated and certified pickleball pros. 
The Oahu Pickleball Association also hosts several annual events throughout the year. 
Would you consider taking a vacation to Hawaii and playing pickleball? I think I would! Pickleball in the morning and then spend the day relaxing on the beach. Sign me up!
DC metro area
The D.C. Department of Parks and Recreation has three centers across the city where you can play pickleball. There is also a locally-owned and operated Pickleballerz, the region's first-ever dedicated indoor pickleball facility. It features a state-of-the-art 6 court facility for players who want to improve their skills and be part of the fastest-growing sport in the US.