Looking for Pickleball Podcasts to help you improve your game? These are the best Pickleball Podcasts to listen to so you can improve your pickleball game and strategy.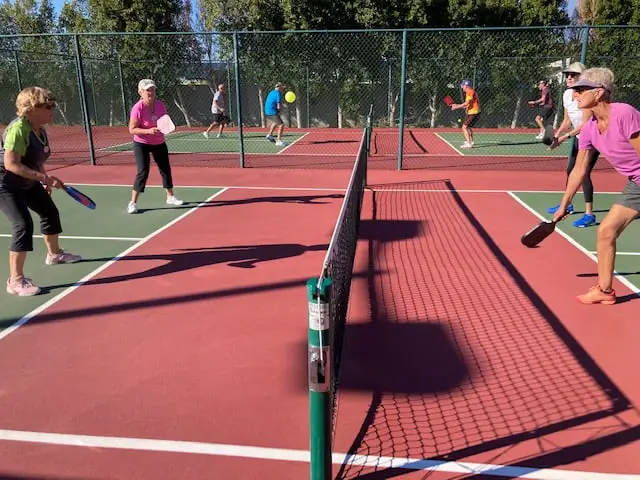 The key to developing your pickleball skills is not only spending more time on the court, whether you're playing singles or doubles, doing workouts, taking lessons, or training with ball throwing machines. However, since many of us enjoy pickleball (to the point of obsession), we are willing to play on a regular basis.
Listening to Pickleball Podcasts, similar to reading books on pickleball, is a great way to learn more about the sport, particularly while driving (i.e. on the best way off the courts). Fortunately for us, as pickleball becomes more popular, there are more high-quality podcasts from coaches and experts that are becoming accessible.
Pickleball Problems
If you want to learn more about Pickleball, Pickleball Problems is the right podcast to ask questions about anything pickleball related. The host, Mark Renneson, is a notable and respected coach in Pickleball. Aside from doing a podcast, he is also the CEO of Pickleball Coaching International, a mentoring organization that offers valuable and exclusive information for pickleball coaches. 
Currently, this podcast is on its 50th episode and it has a wide array of topics related to pickleball. If you have any questions about pickleball, you can even record a voice memo on your phone and send an email to the host. 
In one of the episodes of the podcast, Mark talks about poaching and when it's okay to poach. There are also other interesting topics that he shares on the show, as well as exclusive interviews with coaches, doctors, and other personalities. 
Aside from his podcast, Mark Renneson also runs The Pickleball Lab. It is a subscription-based online resource if you want to see great pickleball contents. 
The Pickleball Guru's Podcast
If you want to learn how to play smart Pickleball or perhaps elevate your game, the Pickleball Guru podcast is perfect for you. This podcast is from the real life guru, Prem Carnot, who has authored a book about pickleball – Smart Pickleball. 
He started doing this podcast back in 2018 and every month he releases a new episode. Currently, this podcast has 27 episodes and has a wide array of topics about pickleball. He also invites special guests to join him on the podcast and share some info about pickleball. 
Morgan Evans More or Less Pickleball Podcast
Launched in 2020, Morgan Evans More or Less Pickleball Podcast is a new "player" in the pickleball podcast community. This podcast is hosted by Morgan Evans who is a both a professional tennis and pickleball instructor. 
His podcast apparently focuses on pickleball – from tips and trivias to inviting special guests who can share chunky lessons about pickleball. 
Aside from doing a podcast, Morgan Evans is also a well-known player and coach. He is also an Advisory Staff Member for Selkirk Pickleball, a leading Pickleball sports brand that sells pickleball paddles, gear, apparel, and more. 
Pickleball Kitchen Podcast
If you are just starting in your pickleball journey, Pickleball Kitchen will guide you. This podcast is about the amazing world of pickleball. It features episodes that will help you improve your pickleball journey with its relatable contents mixed with a sprinkle of humor. Currently, the podcast has 121 episodes. 
This podcast is hosted by Barrett Kinheloe who is a PPR and IPTPA certified instructor. He has a strong belief that playing pickleball can positively impact other people's lives. 
Aside from being a podcast, Pickleball Kitchen has also a website and YouTube channel dedicated to help beginners and even pros with their pickleball journey. 
Dinking Around With Eddie and Webby
If you want to listen to a podcast that talks about beers, Tech, and pickleball, The Eddie and Webby Pickleball podcast is just what you have been looking for. This podcast tackles discussions about pickleball adventures, deep dive on specific beers, and even about latest tech updates. This is a one-stop shop podcast. 
Additionally they get some nice pickleball personalities on the present together with an extended record of professional pickleball gamers which have been on the present.
Pickleball Therapy | In2Pickle
Just like any other podcasts, Pickleball Therapy helps you improve your game. This podcast shares some tips on how to become a better pickleball player. 
In one of its episodes, this podcast mentioned stacking and how it can take control of the game. If you are interested more about this podcast, you better check it out. 
The Pickleball 5.0 Podcast
The Pickleball 5.0 podcast shares stories, news, and current events about the pickleball community. However, this podcast has been taking a break from creating contents. 
Pickleball Talks with Steve Paranto
This podcast is hosted by Steve Paranto who is considered a hall of famer in Pickleball. He has been playing pickleball since 1974. He fell deeply in love with this sport and showed his dedication to this sport. 
His podcast has 23 episodes and he has invited many personalities on the show. 
Pickleball Problems – pickleball coach Mark Renneson
Mark is a well-known and respected coach, with a website and YouTube channel dedicated to his Third Shot Sports activities. He's also the founder and CEO of Pickleball Teaching Worldwide, as well as the developer of The Pickleball Lab, an online coaching program with written guides and videos. As you can see, he uses a wide range of info, and his podcast is jam-packed with nuggets.