Best Graphite Pickleball Paddles: Are you looking for the Best Graphite Pickleball Paddles? Graphite Pickleball Paddles are the most popular pickleball paddles on the market and great for all levels of players.
Graphite paddles are common among competitive pickleball players because they are light but powerful. Because of their lightweight, they're perfect for players who prioritize ball control over strength.
Are you wondering what makes a good pickleball paddle? Or are you wondering what is the difference between Graphite and Composite? This article covers all of the different features of pickleball paddles and how to choose the best pickleball paddle for you.
The game of pickleball hasn't changed much, but the paddles sure have. As pickleball becomes more popular, pickleball players are starting to invest in better equipment. The wooden pickleball paddles of yore are slowly being phased out for newer, lighter, and higher performing paddles. 
Best Graphite Pickleball Paddles Comparison Chart
Here is a comparison chart of the Graphite Pickleball Paddles on the list
Paddletek Tempest Wave Pro Pickleball Paddle 
One of the best things about the Paddletek Tempest Wave Pro paddle is its appearance. Fundamentally, it has a simple design with the most professional looking paddle face. It comes in a variety of colors including green, blue, and red, but the paddle is primarily black. 
The surface of the paddle is made of textured graphite which a lot of pickleball players prefer. This is because graphite paddles offer better grip, flexibility, and maneuverability. Plus, it also gives an extra pop every hit and this is because of the lightweight feature of this paddle. 
The handle is pretty much the same as that of a tennis racket which means it's very easy to hold when you're playing. Not only that, there are multiple grips that you can choose from. You can go for the thin 4 ⅛ circumference high tack performance grip or the standard 4 ⅜ inch ultra cushioning high tack performance grip. 
Pros: long handle, wide paddle face 
Cons: expensive
Sound Interesting? Check out the reviews and price on this pickleball paddle
Onix Stryker 4 Pickleball Paddle 
The Onix Stryker 4 is a great graphite pickleball paddle for newbies and intermediate players. Even though it is classified as a beginner paddle, the Onix Stryker 4 has a lot of features of a top pro-paddle. One, its face is made from graphite. Two, the paddle core is made from polypropylene construction. Both of these characteristics mentioned make the paddle even stronger, lightweight, and durable. 
The paddle only weighs between 6.9 to 7.4 ounces which means it is a lightweight paddle that can give you touch, power, and a large sweet spot. So if you are just beginning to play pickleball or if you are a more seasoned player who wants to level-up your game, the Onix Stryker 4 is a perfect choice for you. 
Pros: tennis-like handle, lightweight, durable 
Cons: one size only 
Sound Interesting? Check out the reviews and price on this pickleball paddle
ONIX Voyager Pro Pickleball Paddle 
If you are looking for a high-performance paddle that is suitable for both beginners and advanced players, the Onix Voyager Pro is a great choice for you. 
This ONIX Voyager Pro is the more improved version of the Voyager series. It has a new and improved design and premium-coated surface to give you the best touch. The weight has also been reduced a bit to let more speed to come in. It only weighs 7.8 to 8.2 ounces and has a broad 8-¼" width that generates a good sweet spot. 
Pros: large sweet spot 
Cons: short handle
Sound Interesting? Check out the reviews and price on this pickleball paddle
ONIX Outbreak Pickleball Paddle 
Another great graphite pickleball paddle from Onix is this Onix Outbreak Pickleball paddle. It is a polymer-core, graphite-faced composite paddle that has an all new paddle face. Fundamentally, the paddle has a standard shape and it has a top-heavy feel paddle that a lot of players (especially tennis players) prefer.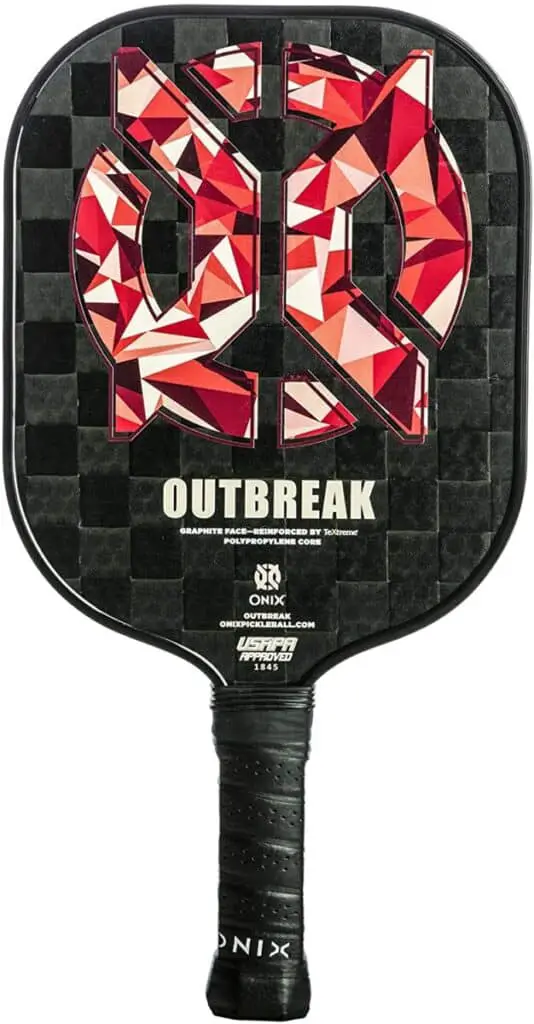 This paddle has also a standard polymer core composition but slightly thicker than the usual polymer core paddles. And because it has a thicker core, this helps absorb more force upon striking the ball. 
One of the latest innovations that Onix has introduced on this paddle is the TeXtreme technology that increases stiffness and strength, and gives the player pinpoint control. 
However, one of the few disadvantages about this paddle is that it has a super thing grip. The handle has a rectangular and edgy feel in your hands that you can almost feel the edges of the handle. 
Pros: large sweet spot, better touch and pop
Cons: super thin grip handle 
Sound Interesting? Check out the reviews and price on this pickleball paddle
Paddletek Tempest Wave II Pickleball Paddle 
One of the best and improved features of the Paddletek Tempest Wave II paddle is its ability to keep you in control of the ball. It has a tender and muted feel on impact because of its polymer core construction that helps reduce vibrations. The textured surface of the paddle has also an advantage because it helps "pick up" pickleball to improve placement. 
The Tempest Wave II belongs to the mid-weight paddle as it has a weight range of 7.4 to 7.8 ounces. This is perfect for players who want speedy exchanges at the net without losing power because of its mid-weight. 
In terms of its grip, the Tempest Wave II has a grip size of 5 ¼". It has a generous length than most average paddles thus perfect for players with large hands. 
Pros: Perfect balance of feel and power, reduces vibrations 
Cons: No headcover 
Sound Interesting? Check out the reviews and price on this pickleball paddle
ONIX Z5 Graphite Pickleball Paddle 
If you are looking for a quality graphite paddle with a traditional wide-body shape, this is the perfect pick for you. Even if you are a newbie or a seasoned player, this paddle will definitely improve your game. 
The ONIX Z5 graphite paddle is nearly the same as the ONIX Z5 composite except for the weight. The Z5 graphite paddle weighs about an ounce less than the composite paddle, 7.8 ounces to be exact. 
Pros: easy to spin, great control 
Cons: no paddle cover 
Sound Interesting? Check out the reviews and price on this pickleball paddle
Gamma Sports Neutron 2.0 Pickleball Paddle 
The Gamma Sports is known for manufacturing racket sports equipment for over 40 years and they are best known for manufacturing tennis rackets and strings. But in recent years, Gamma Sports have ventured to selling pickleball equipment to cater the popularity and demand of pickleball. And this Gamma Neutron 2.0 is just one of the many pickleball paddles that Gamma Sports has introduced in the Pickleball world. 
This Gamma Neutron 2.0 is the lightest and fastest paddle in the Gamma series. It only weighs 7 ounces and this gives you a speed game and allows you to maneuver quickly at the net. However, this paddle has a small grip size of 4" which makes it ideal only for smaller hands. 
This paddle is composed of Aramid Honeycomb Core which is a perfect blend of power and control not only for beginners but also for more experienced players. 
Pros: lightweight, perfect blend of power and control
Cons: small grip size. 
Sound Interesting? Check out the reviews and price on this pickleball paddle
You should consider Pickleball Paddle Shape 
The official rules for pickleball paddle size state that the combined width and length of the paddle cannot be any wider than 24 inches. And that the length cannot exceed 17 inches. With that being said, paddles come in a variety of styles and combinations of width and length:
Wide Body: wide-body paddles are considered to be the classic shape for most pickleball paddles. The classic dimensions are 8-inches wide by 16-inches long. These paddles are appropriate for most players.
Oversized: many paddle manufacturers are making paddles with a shorter handle and longer paddle faces. Oversized paddles are good for intermediate to advanced players. 
Elongated: these paddles cut down on paddle width in order to add more paddle length. These paddles are considered to be specialty paddles for the advanced player. 
Price of Paddles
Pickleball paddles come on a spectrum of prices. Depending on your budget and level of play, there will be a paddle that fits your needs. And if you are nervous about investing too much, just remember that a quality paddle will last you many years, so long as you take good care of it. 
Paddles can range from around $15 for the cheapest, all the way up to over $150 for the highest quality. 
Top-notch graphite paddles are used by the pros, whereas more affordable composite paddles are used amongst the everyday player. If you are a complete beginner, most will tell you to avoid wooden paddles. If you play pickleball just for fun, then a middle-tier composite or graphite paddle will suit you perfectly. 
Summary 
Finding the right pickleball paddle is like making sure your shoes fit correctly and are laced up properly. When it's done right, you will notice a difference in your quality of play and how much fun you are having. 
Paddle weight and grip size are the two most important considerations to get perfect. 
If you have a tight budget or are buying paddles in bulk, then wood is the best option. It's a tried and true option that will always get the job done. Wood is affordable, durable, and accessible. 
If you want to step up your game, but are still only playing pickleball as a hobby, then a composite paddle is your best option. You will absolutely be able to find a paddle that fits your budget and be able to enjoy the advantages of a higher-performing material. 
If you like to play pickleball competitively, then considering a graphite paddle may allow you to play at a higher level. They are the most expensive but are some of the best performing paddles money can buy.