Best Pickleball Shoes: Are you looking for a new pair of pickleball shoes? There are a lot of things to consider when purchasing a pair of shoes for pickleball.
In this article, I compare different types of pickleball shoes and what you need to consider to find the best pickleball shoes for you! This list has the best pickleball shoes for men and women.
I started playing pickleball in 2017. Its a great game and a great workout. These are the pickleball shoes I recommend, the pickleball paddle I use, and my favorite pickleball t-shirt.
Disclaimer: This post may contain affiliate links so if you make a purchase through one of the links we might earn a small commission ( it's at no extra cost to you)
Can I Wear Running Shoes for Pickleball? 
For starters in the field of Pickleball games, the quickest way that they can grab a pair of pickleball shoes is their existing running shoes. Yes, you can totally wear them as it is known for its reputation as a shoe for every occasion. It totally makes sense especially if you are still new to this sport.
But the question is, should you wear running shoes during your pickleball game? Quite frankly, No. 
Running shoes are not only a bad idea but they could also be a source of accidents while playing. Running shoes are designed for running and they are lightweight, flexible, and have slim support on the sides. In other words, the absence of lateral supports can be dangerous especially on the ankles and may be the cause why you can't play pickleball for months. 
There are many horror stories about foot injuries sustained by players who wear the wrong shoes during a pickleball game. And to be honest, those stories are really terrifying and the last thing you want to have is an injured ankle. After all, you are playing pickleball for entertainment and not to sustain injuries. 
What to look for in an indoor pair of Pickleball shoes?
Pickleball is one of the fastest-growing sports in the US. According to a survey conducted by the USA Pickleball Association or USAPA, Pickleball has had a 650% percent increase in numbers for the last 6 years. It has grown its popularity across America because this sport is very easy and practical to play. And one of the many great things about playing pickleball is that you don't need that much equipment to get started. 
However, one of the few things that players neglect when they are playing pickleball is the kind of shoes they need to wear especially when playing indoors. Unfortunately, there are no specific pickleball shoes that's being sold in the market today but the great option for indoor pickleball playing is the volleyball shoes. 
Volleyball shoes are specifically designed for indoor courts. Each pair of volleyball shoes has natural gum rubber soles that will grip the smooth gym surface and prevent injury. However, volleyball shoes can be slightly so you may want to opt for something lightweight because extra ounces of weight can add to fatigue. 
What to look for in an outdoor pair of Pickleball shoes?
What is great about playing pickleball is that it can be played either indoor or outdoor. As mentioned earlier, there are no specific pickleball shoes that's being offered in the market today. But even if there's no specific shoes for pickleball, there's a right kind of shoes for playing outdoor pickleball. It's very important that you have the right kind of shoes to prevent injuries and provide you comfort throughout the game.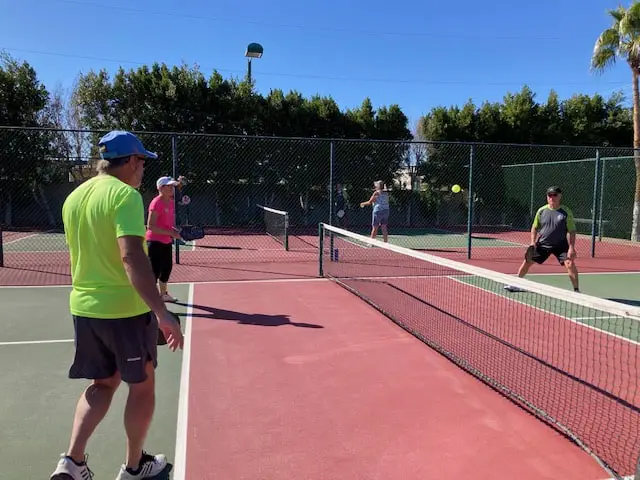 The best option for outdoor pickleball playing is the tennis court shoes. Yes, it's not surprising at all that this is the best option since both sports are relatively the same. 
Tennis shoes are great for playing outdoor pickleball games because of many factors. First, the sole of the tennis shoes is flat and it does not have any rubber. It also has very strong stability on the sides and it bends at the toe box instead of in the middle. Although tennis shoes are heavier and bulkier than volleyball shoes, it definitely works well in the outdoor situation. 
If you are spotting for a pair of tennis shoes, make sure you get a quality pair. Outdoor pickleball courts are rougher than indoor courts so you really need a durable pair that can handle the extreme surface of outdoor courts. 
Why are Pickleball Shoes a good investment?
If you can spend money on pickleball equipment like paddles and balls, then certainly you can invest in a good pair of pickleball shoes. Although pickleball equipment is still the biggest factor in playing the game, players should also pick a great pair of shoes that gives comfort throughout the game. 
A good quality pair of pickleball shoes compliment your feet that will help you play the game with confidence. You can just imagine the amount of pressure that you need to put on your feet when you run laterally or you land following a jump. Surely, your feet can handle the movement but if you are not wearing a good pair of shoes, it might cause you some serious injuries.
A good pair of pickleball shoes also has extra cushioning that can really make a big difference when you're playing. It protects your arches and heels from any pain or injuries so you can finish the game without interruption.
So if you're playing pickleball more than once a week, it is highly recommended that you invest now in a good quality pair of pickleball shoes. 
How to choose the best shoe for pickleball?
There are many features that you need to look into when picking the best pickleball shoes. Each of these features will help you move and step up your game in pickleball. 
Pickleball Shoes should have a Thick Sole 
You already know that when you're playing pickleball, it involves a lot of movement. You'll either be jumping, running laterally, and jumping again up and down. These swift movements are all necessary when you're playing and it can put a lot of stress on your knees and feet. With the help of a thick sole, injuries can be prevented and it provides support from impacts. 
Pickleball Shoes should have Solid Ankle Construction 
The most typical injury that some players sustain from playing pickleball and tennis is a twisted ankle. This is because the ankle is one of the most used and vulnerable parts of the foot and playing pickleball can give an enormous amount of stress on the ankles. To prevent this, you need to choose a pair of shoes that has a solid ankle construction. 
Weight of your Pickleball Shoes
The last but definitely not the least feature that you should consider when buying a pair of pickleball shoes is the weight. While it is true that its weight varies depending on your shoe size, you may want to compare weights across different shoes. 
Most, if not all, volleyball shoes weigh around 9 oz and below while a typical tennis shoe can be upwards 1 lb. But it is worth noting that the heavier the shoe is, the more it provides support for your feet while you are moving on the court. But going for lighter shoes doesn't mean it wont give you support. Above all, you should also prioritize your comfort while playing. 
Types of Shoes you should avoid when playing Pickleball
Running Shoes
As mentioned above, running shoes are not the most ideal type of shoes that you should wear when playing pickleball. These type shoes are designed for running and they are lightweight, flexible, and have a small amount of support for your ankles. 
Hiking Boots
Hiking boots are made for hiking and not for playing. Aside from being heavy, it does not give a solid ankle construction and has a hard construction making it harder for you to jump around and run laterally on the court. 
Shoes without support
You want to be wearing a quality shoe and ensure you are not being susceptible to injury. You need good support. Some of the examples of shoes without support are sneakers, running shoes, trail shoes. 
Best Pickleball Shoes for Women
Adidas has been widely known all over the world to be a manufacturer of athletic apparel and shoes and sporting goods. This brand is considered as the largest sportswear in Europe and it offers footwear for every sport and that includes Adidas' Gamecourt Tennis Shoes.
If you are looking for basic pickleball shoes that do its function of providing support on your feet, this is a great choice. It features a lightweight and comfortable fit that feels like you are walking on the bare floor. Plus, the EVA cushioning technology of this shoe will help you step up your game with confidence each time. 
In terms of style, this is a very nice looking pair and it seems like it would repel water especially when it's raining. However, the letdown of this shoe is that it isn't as comfortable compared to other brands because it doesn't have an arch support. You may encounter some problems during a pickleball game especially if your shoe doesn't have arch support. But overall, if you are just looking for a "starter pack" pair that does a basic job, this one's for you.   
Pros: affordable
Cons: basic tennis shoe, average support 
This K-Swiss Ultrashot 2 is the refined version of the first edition of the Ultrashot. K-Swiss updated the Ultrashot variant by improving its comfort and reducing its weight. It has also improved its tongue designed to give more cushioning on the extensor area of the foot. 
In terms of comfort, K-Swiss holds a great reputation for making shoes that provide step-in comfort. Since it has improved the tongue design, this shoe supports wider feet well and you'll love the fact that your feet can sink into the cushioning. 
For its foot support, again the Ultrashot 2 did not disappoint. Your feet can stably fit on the shoe thus allowing you to move aggressively and to feel more confident during the game. You can also move in any direction with more ease and comfort knowing that this Ultrashot 2 can provide your feet that support that it needs. 
With all the good things about this updated version of the Ultrashot, the only letdown of this shoe is its weight. It didn't quite make it to the list of lightweight shoes. The Ultrashot 2 falls on the middle-weight shoes but definitely it doesn't feel bulky. 
Overall, this is a great pair of pickleball shoes that really does its function of giving you comfort, support, and performance. 
Pros: comfortable, improved materials, stable
Cons: middle-weight
Let's get straight to the point – this Wave Exceed Tour 3 has a reasonably good and balanced traction. As you move in any direction during the game, you'd be confident that you aren't going to slip because of its D-Flex Groove in the mid foot area. This technology allows p;ayers to turn at maximum speed and power by smoothly transferring natural body movement and shifting in direction. 
In terms of foot support and stability, this shoe pretty much does its job even though they aren't the most stable shoes that you can grab today. Still this shoe will make you feel confident moving on the court and you'd never feel like you're going to twist your ankle or lose your footing. 
If you are looking for the lightest pickleball shoe, the Exceed Tour didn't make it to the cut. But even if it's not the lightest shoe, still they aren't the heaviest. This shoe landed in the middle spectrum in terms of weight.
If you have wide feet, you may find the Wave Exceed Tour 3 to be a bit uncomfortable. Although you'd really appreciate its cushioned feel underfoot, the overall fit of this shoe is a thumb down. Its toe box is too narrow and may cause some joint pain on your big toes. 
Pros: good traction
Cons: narrow fit, will not work with a wide foot 
Best Pickleball Shoes for Men
The Nike Court Lite Tennis Shoe is a very versatile pair of shoes. It is not only a tennis shoe but it can also be used as sneakers, winter shoes, and of course as pickleball shoes. However, some people would consider this as a bit of a "dad" shoe, but this definitely a basic tennis shoe that is extremely comfortable at an excellent and reasonable price. 
When it comes to its design, it has a mesh tongue that enhances breathability. If you have wide and flat feet, you may find this shoe too narrow for you. But the good thing is that it will loosen after some break in time. Overall, this is a basic yet reliable tennis shoe that doesn't need fancy or unnecessary design for it to be exceptional. 
It's also lightweight and you can use this for both indoor and outdoor racquet shoes. It has a great cushioning and good soles so it really gives great support on your feet. It's also very durable and represents a good value for the money. 
Pros: durable, reasonably priced 
Cons: narrow fit
The Gel Rocket 8 is another pair of shoes that is perfect for players who are looking for a simple pair yet still does its job of providing support, comfort, and style. It comes in several colors but if you prefer a low key pair, you may opt for the black or white version of this. 
In terms of design, the ASICS Gel Rocket 8 features a full lace-up closure and the classic ASICS stripes logo on both sides. They are made of a lightweight mesh upper and can give you structured support and comfort. The tongue and collar are both padded so you'll feel the added comfort while wearing it. It also has a great molded EVA midsole that is shock absorbent from heel to toe. 
With regards to weight and construction, Gel Rocket 8 is the enhanced version of the previous Gel Rocket 7. Many have liked the lightweight nature of this shoe because it allows you to move your feet quickly especially during the game. It also features a Trusstic System R Technology that reduces the weight of the shoes without taking away the structural integrity of the shoes. 
However, there is only one problem with the new Gel Rocket 8 – its mesh design. After using it for several weeks, the mesh has quickly developed holes. 
Pros: entry-level price, comfortable, lightweight
Cons: not so durable mesh
The K-Swiss Hypercourt Supreme is regarded as one of the most popular sport shoe models. There are so many reasons why this  shoe is a great investment for your pickleball career.
The Hypercourt provides a good all-around comfort. Even if it's your first time to use the shoe, breaking it in wouldn't be a problem that you can go straight to the court and play. No wonder the K-Swiss brand holds a great reputation for high-level comfort. However, there's only one problem when it comes to its design, if your feet are too narrow, you may find this shoe too wide. 
When it comes to foot support and stability, the Hypercourt has scored big. K-Swiss has crafted the Hypercourt with Durawrap Flex and gave this shoe a bootie fit. You can easily move around the court and the uppers feel more supportive. 
Overall, this is a really great shoe that lives up to its promise. If you are looking for a pickleball shoe that you can invest on, this is a top choice. 
Pros: lightweight, comfortable 
Cons: wide fit