Best Pickleball Paddle: When you start playing pickleball one of the first pieces of gear you will need is a pickleball paddle.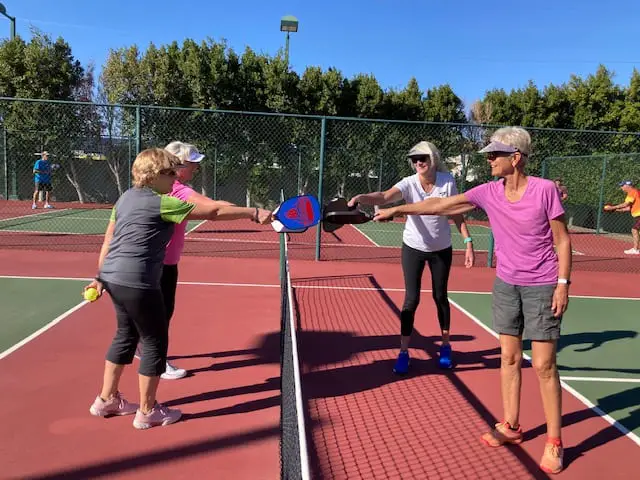 Finding the best pickleball paddle for you is the most important step in feeling comfortable and confident in playing pickleball. That's why I have put together this list of the best pickleball paddles and the features you should take into account when looking for a pickleball racquet.
Click here to see the best pickleball paddle that I use now.
COMPARISON CHART: BEST PICKLEBALL PADDLES 2021
Compare BEST PICKLEBALL PADDLES in the following chart.
Features of a Pickleball Paddle
Paddle Core Materials – Nomex Core, Aluminum Core, or Polypropylene Core
Normex Core – The Normex Core is the oldest type of materials used in making pickleball paddles. It was first developed in the early 1960s as a fire-resistant material for firefighters' helmets among other uses. And if you are new to playing pickleball, this is the most common type of paddle that pickleball players are using. 
This type of material produces great power because of extremely hard yet lightweight material. Your hands could easily swing it and each swing gives a big amount of force behind it. However, Normex is not recommended for beginners because this paddle is very hard, fast, and vicious.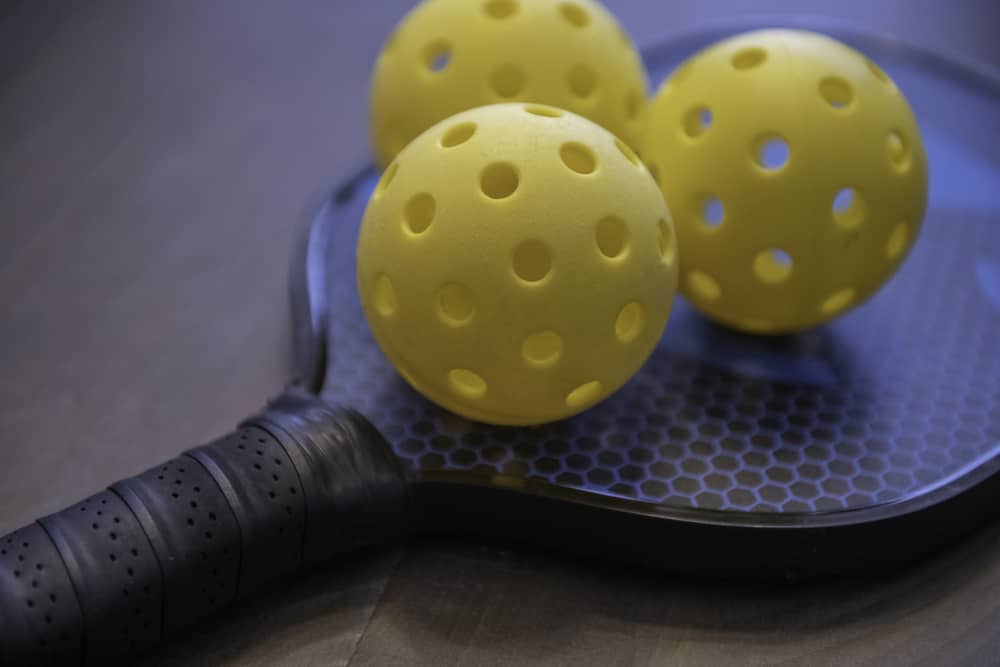 Aluminum Core – Aluminum cores are famously known for being lightweight. But in the arena of pickleball, the heavier it is, the more power it generates. Plus, it's easier to have control over the ball when you use aluminum paddles because you don't have to be so careful when you are hitting it too hard. Thus, you are able to swing it easily even if it weighs more. 
However, the downside of aluminum is that among all the paddle core materials, this is the least powerful because of its "feathery" nature. In fact, this type of paddle is best for children and people with severe arm and wrist limitations. 
Polypropylene Core – Poly cores are significantly less expensive and softer than nomex. It is also highly durable, yet heavier in weight. Generally, this type of material lacks the lively feel that a Nomex Core has because the material itself sucks up more of the ball's impact energy. 
Pickleball Paddle Material 
Polymer – Polymer is much softer and has larger honeycomb cells. Since it has a softer material, it's quieter and the material really holds up well compared to other paddle materials. 
Wood – Wood pickleball paddles are the cheapest yet heaviest type of paddle material that you can find in the market today. This is a viable option for beginners who are looking for a paddle to invest without costing them an arm and a leg. 
Graphite – Graphite Paddles are considered to be the most expensive type of paddle materials. However, they can be light and powerful 
Composite – This kind of paddle is made with a composite core and a fiberglass or carbon fiber hitting surface. This is a more popular paddle material because of its textured surface that is easier to put spin on the ball. 
Paddle Size
The paddle size that it refers to in this section is your grip size. Now, once you have decided on the right paddle weight, the next decision that you need to take is the grip size. 
It is vital to choose the ideal pickleball paddle that has the correct grip circumference that matches your hand size. Otherwise, it's like using running shoes that don't match your shoe size – very uncomfortable. 
If you opt for a paddle with a smaller grip, it's easier for you to spin on the ball and it improves control. 
And with a larger grip, it helps increase your stroke stability but if it's too large for you, you might experience elbow strain. 
Paddle Weight
Most buyers prioritize the price of pickleballs in their buying decision yet fail to consider one of the most important factors in choosing the right paddle for them, which is the weight. To be fair, price should also be a factor but it won't solely give you the full answer on which is the right paddle or you. 
Most experts would agree that weight should be the paramount priority when choosing a pickleball paddle. The paddles that are available in the market today weigh approximately from 6 to 14 ounces. And the paddle weight will determine the "feel" in your hand especially when you sway the paddle. Generally, the weight of the paddle is more of a personal choice coupled with your fitness level and style of playing. Of course, the heavier the paddle, the more power it generates but it is more prone to put stress on injuries, especially on the elbows. 
Price
The price of a pickleball paddle varies depending on its material. In general, a "starter pack" price for a good composite pickleball paddle starts at $50, while a graphite paddle ranges from $60 to $145. 
But if you are looking for a least expensive pickleball, you can opt for wood paddles, however they are super heavy. 
The Best Pickleball Paddles on the market
ONIX Graphite Z5 Graphite Carbon Fiber Pickleball Paddle
The ONIX Graphite Z5 is popular for its outstanding touch and ball control. This is the best pickleball paddle on the market for the money!
It is made of graphite and normex honeycomb core that allows the player to superiorly feel the ball, especially with its total paddle weight of 7.5 to 8.2 ounces. It also has a wide body shape which makes it perfect for beginners and advanced level players. 
However, if you opt for the heavier version of this paddle, you may suffer from elbow injuries or joint pain. If you wanna avoid this, go for the lighter version of the Graphite Z5. 
If you are looking for a quality paddle that you can use as an amateur player until you turn to pro, the Onix Graphite Z5 is perfect for you. 
Paddletek Bantam EX-L Pro Pickleball Paddle
In terms of power and performance, you can help but take the Paddletek Bantam EX-L Pro on top of the list of one the best pickleball paddles ever made. It has a smart response technology feature that delivers a driving force every time you swing yet still having a control over the paddle. 
It weighs 8.2 to 8.8 oz thus giving you a heavier paddle feel as it doesn't wobble if the ball hits the parameter. This durable paddle is also equipped with ultra cushion high tack performance grip and has ⅛" edged shocked guard. 
Overall, this Bantam EX-L Pro does its job and it's perfect for beginners and pros.
Paddletek Tempest Wave Pro Pickleball Paddle
The polymer core paddle of the Paddletek Tempest Wave Pro is no doubt one of the nicest touches in the game. The amount of control that you can get from the paddle delivers unmatched accuracy without sacrificing any of the power, thus allowing you to reach the highest levels of performance. 
When it comes to its handle and grip, it has a very solid handle that lets you feel that you are in control of every swing and bat. And the grip type is equipped with a high tack performance grip that gives you a sweet feel through its handle. If you are looking for a higher performance paddle, this one's for you. 

HUDEF Graphite Carbon Fiber Pickleball Paddle
Another suitable pickleball paddle for beginners and tournament players is this HUDEF Graphite Carbon Fiber paddle. The graphite face gives superior strength and it is designed to restrict noise while playing. And its medium weight gives you more control of the paddle thus giving a perfect balance between great gameplay, control, power and maneuverability.
And even if you accidentally drop the pickleball rackets, you don't need to worry because of its edge guard that lessens the chance for an edge hit both indoors and outdoors. 
When it comes to its grip, the dry grip tape is very comfortable and ultra-soft even while you are sweating. The technology used keeps your grip dry and solid to give you maximum performance on the court. 
Overall, the feel of this paddle is light and the handle is perfectly tacky plus an excellent ball control. 
HUDEF Lightweight Composite Fiber Wide Face Pickleball Paddle
High quality, lightweight, and ultra durable – these are just some of the best features of this HUDEF Composite Fiber Pickleball Paddle.
It strikes a balance between touch, power, and control because of its lightweight feature which is perfect for beginners and intermediate players. Its composite fiber face and polypropylene honeycomb core both give a good anti-slip performance so you can control the paddle without the vibration feeling. 
The newest technology introduced to this product is the double buffering technology. Its grip is made of ultra-soft and ultra-comfortable material that absorbs the sweat and keeps your grip dry and solid and you won't have any issues with slipping.
Pro-Lite Titan Black Diamond Pickleball Paddle
The Titan Pro-Lite Black Diamond paddle is a great example for work of art and high-end paddles. According to its manufacturer, the core material inside the paddle is the stronger Polymer currently available on the market.
The paddle face is made of 100% carbon fiber which gives it a great shock absorption, while the low profile edge guard protects the paddle from any impact.
If you are new to pickleball and you seriously want to invest in a paddle that will really give you optimum experience and will last for a very long time, this Titan Pro-Lite is for you. 
Paddletek Tempest Wave II Pickleball Paddle
If you are a seasoned pickleball player, the Paddletek Tempest Wave II is the perfect paddle for you.
This paddle was built for durability, greater aim, and maximum performance. Its PolyCore material lessens vibrations while the textured graphite surface makes it easier for you to place the ball exactly where you want to position it. 
It has a balanced weight of 7.4 to 7.8 oz that increases speed and maneuverability so you can deliver the expected performance you need to win. So, if you want a lightweight paddle with good feel, this is exactly right. 
Prince Response Pro Pickleball Paddle
There are only a few paddles on the market today that can help even an amateur player get better and this one does really help.
It features a progressive core technology that reacts and compliments to every shot and play style. Plus with its thicker polymer core, it provides you more power and gives consistency in the direction and placement of the ball. 
One of the best things about this paddle is its shape. The Response Pro is a versatile paddle with an oval shape that aids you in achieving accurate shots throughout the game. You don't need to settle for a paddle that is powerful yet uncontrollable when you can have both power and control over it. 
Rally Graphite Pickleball Paddle PX   
The Rally Graphite Pickleball Paddle PX was designed to have excellent capabilities in all aspects of play. Its well-rounded paddle and medium weight strikes an equilibrium between power and touch. The powerful polymer core gives a strong yet soft touch, while the textured graphite face gives more spin and control every hit. 
Generally, this is also very sturdy for a lightweight paddle and the most popular weight range of 7.7 to 8.0 ounces is great for all around performance and players for all levels. Overall, this is a great paddle that will far exceed your expectations. 
Engage Poach Extreme Pickleball Paddle
The Engage Poach Extreme boasts of its latest technological advancements in paddles today with its 6-layer that has the same thickness as the existing 1-2 layers. This only means that with its 6 layer skins, it produces the desired playability and maximum ball responsiveness while playing pickleball. 
The other unique feature of this paddle is its elongated shape that provides more whip on the paddle and also improves power at the sweet spot. The paddle itself has an excellent reach and right sensitivity that will help you be prepared to take any challenge while playing.