Are you looking for your own pickleball net? I have researched and used several nets and have found the best pickleball nets to play pickleball.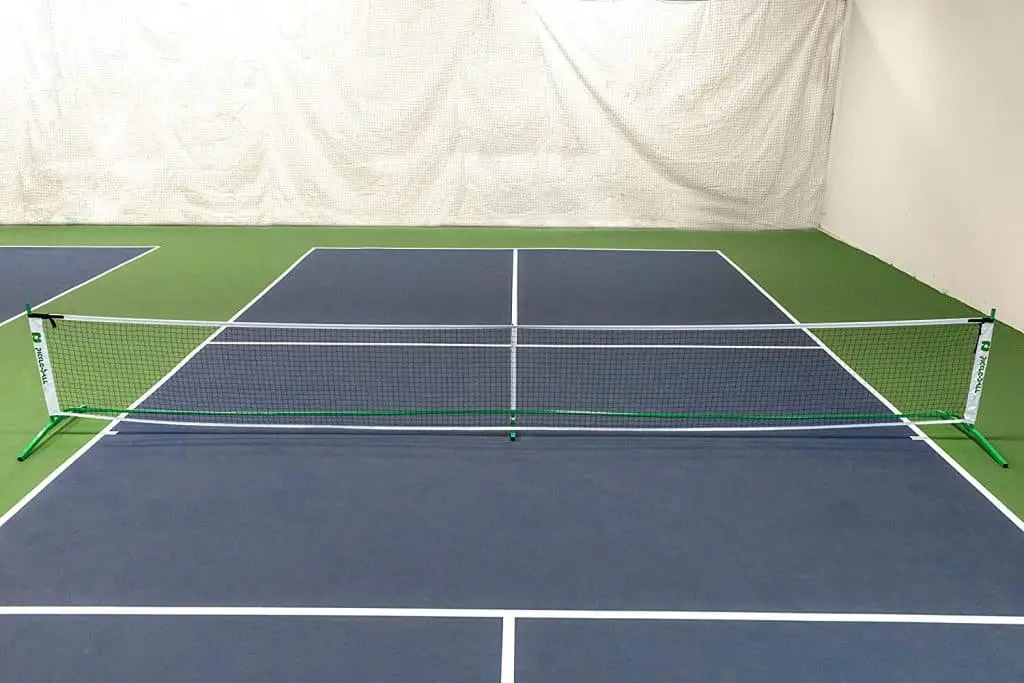 What to Look for When Buying a Portable Pickleball Net System
Price of the pickleball net
The most affordable pickleball nets that you can probably find in the market are under $90 but you get what you pay for. These affordable nets may be comparatively light and may be easily blown over by the wind. 
But you can always opt for a higher quality and expensive ones that would cost around $160 to $3509. But if you prefer the professional level portable nets, it will run you over $1000.
USAPA Regulation Size
Although not all nets follow the regulation size, the USAPA standard measurement dictates that a pickleball net has to be 22 feet wide, 36 inches at the sides, and 34 inches at the center.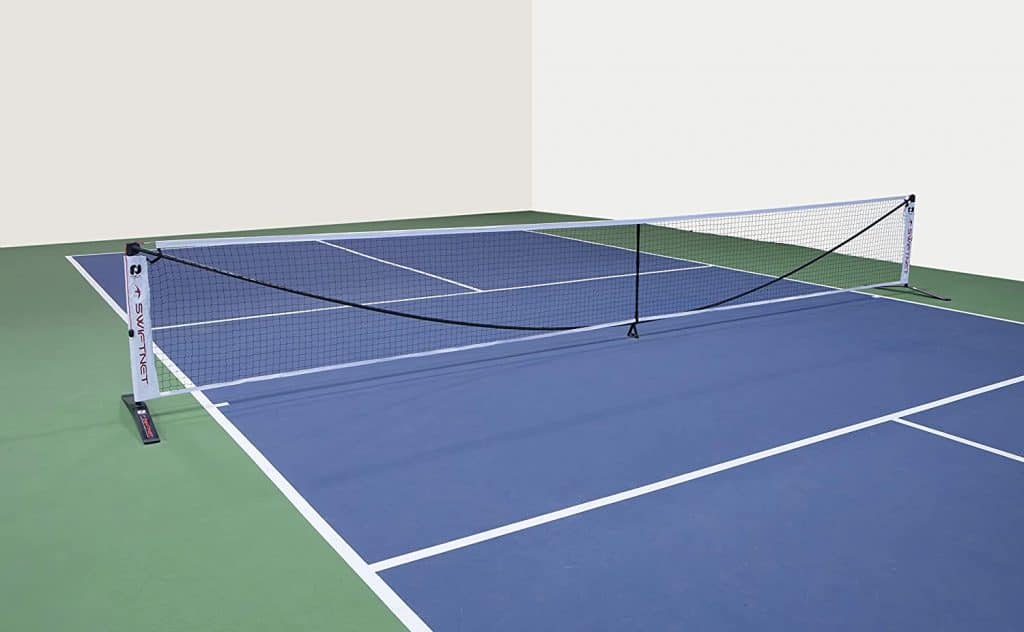 Weight of the pickleball net
If you are going to convey a net around back and forth, the best option for you would be to get a lightweight net so that you won't have a hard time carting it. But there are also pickleball nets that have built in wheels which makes heavier nets easy to move around. 
Design 
There are two best pickleball net designs: one by Swiftnet which uses a carbon fiber supporting brace that goes across the net, and two, Picklenet's patented oval tubing. 
If you want a good looking net, opt for a well-built and tight pickleball net. 
Materials 
Aside from those mentioned above, you also need to pay attention to what kind of material the net and its frame are made from. The USAPA standard requires that the nets must not allow the ball to pass through it. 
In terms of its frame, the cheapest nets are made from aluminum and this is the kind of material that you should avoid. The best option is to go for a net system with steel poles as this is highly resistant to bending and twisting. 
The Best Pickleball Nets so you can play anytime
Portable Pickleball Net System 
Playing pickleball anytime and anywhere would be possible with this 3.0 portable pickleball net system. This very convenient net system allows you to set up and break it down easily so practically you can turn any hard surface into a pickleball court. 
Its material is made from hollow, powder-coated steel tubing which maintains rigidity at the same time giving you a light weight of only 22 lbs. It also features a very unique tensioning system that allows you to adjust the tension of the net. 
It has a center stabilizer that supports the net in case of windy conditions and raises the crossbar to protect the net from damage. 
Pros: sturdy, great for indoor pickleball 
Cons: metal frame easily bents and scratches 
SwiftNet 2.1 Portable Pickleball Net System 
Although this is a portable net, it is considered as one of the best performing portable pickleball nets that performs like an in-ground net. This is an upgraded version and it is now even sturdier and with a simpler set up (2 to 5 minutes to fully assemble) without changing the weight and performance. 
You can carry this net wherever you go with its lightweight feature (only 14 pounds) and it is stronger and more durable because it is made from recycled aerospace carbon fiber. The frame is made from lightweight aluminum and it claims to be rust resistant too. 
This is a great choice if you are looking for a  pickleball net that is lightweight and durable. 
Pros: lightweight, durable, easy to set up and take down
Cons: pricey 
Falconz Regulation Size Pickleball Net for Outdoor and Indoor 
Finally you can set up your own pickleball court with ease and one of the best options is this Flaconz pickleball net with a perfect 22 feet length full sized regulation net. It is made from high quality materials, the net frame being made from steel for strength, sturdiness, and durability, while the netting is made from PE with a knotless design. 
You'll also feel the breeze of setting this up because it will only take about 15 minutes or less of your time. Thanks to its interlocking system feature that allows you to assemble it without tools! There is also a carry bag provided so you can keep all the components of the net and carry it with ease wherever you want to go. 
Pros: sturdy, durable, high quality materials, regulation size 
Cons: pricey
Rally Portable Light Pickleball Net 
Rally Portable Light Pickleball Net is a long lasting and a very portable net that you can take wherever you want. It only weighs 13.5 pounds and its carry size is approximately half the weight and packed size of most portable nets in the market. 
You would appreciate how fast and easy to assemble this portable net is because all of its frame parts are attached with shock cord. Plus, there is no measuring required just to get the perfect net height because it has a marked 36" height on the end posts. And when you buy it, it comes with a carrying bag that is simple, effective, and durable. How convenient, right?
But not only that, its steel frame and components are tougher than other light weight nets thanks to its enhanced strength tubing in the end posts because it keeps the net stable even in windy conditions and prevents sagging along the top of the net.
Pros: lightweight, compact, durable, stable 
Cons: Not rust proof 
Aoneky Portable Pickleball Net System 
If you are looking for an entry-level portable pickleball net at an affordable price, this Aoneky Pickleball Net will not disappoint. This quite sturdy net is made of strong nylon and it can easily slip on the steel structure. It is also equipped with round steel tubes so that it won't easily twist or bend.
Apart from the two side wide bases and strong straps, what makes this pickleball net have a stable structure is its solid center base. There's a fiberglass rod that feeds through the center and is anchored in a center metal standard. 
This portable net also comes with assembly instructions that will guide you to set up the net exactly and easily. You can probably finish setting this up by two people in just 5 minutes or so. 
Pros: perfect for beginners, USAPA standard requirements 
Cons: frame is not weatherproof, low quality materials 
A11N Portable Pickleball Net System 
A11N portable net has met the official pickleball standards with 22" wide and 36" high at sidelines, and 34" tall at the center dimensions. The whole net is packed in a carrying bag that weighs only 20 lbs. It's very portable and easy to transport anywhere you want to go. 
Its sturdy interlocking metal frame is very durable and can hold out against any weather, while its solid PE knotless and dual PVC fabric are more durable than the polyester used by other brands. The yellow stoving varnish coated frame design makes the net brighter and more recognizable, especially when you play outdoors. 
This net is also easy to assemble. In fact, you don't need any tools to set up this baby. 
Pros: can be used indoor or outdoors, bright color scheme, weather resistant, regulation size
Cons: the net is not so durable
PIKASEN Portable Pickleball Net System 
Just like most pickleball nets out there, this Pikase Portable Net has met the standard dimensions for a pickleball net system. But what makes this pickleball net set apart from other brands is that its net comes with a high-quality fiberglass net support that attaches to the middle of the net frame and secures that the net height remains at 34" in the center. 
This net is also easy to assemble because of its simple connection design and locking connection systems that make it more convenient to assemble and break down. And it comes with a heavy-duty zippered duffel bag so you can easily store and transport it. 
High-quality materials were also used on this product to ensure that it will really last for a very long time. It is made using 1.2mm thick premium steel, and the frame is powder coated for rust-resistance.
Pros: easy to assemble, official standard size, high quality
Cons: Lack locking mechanism for the base at each end 
OnCourt OffCourt PickleNet 
This OnCourt OffCourt PickleNet is not your ordinary pickleball net. It is one of the most high-quality nets that you can find in the market today. As you might observe, its price can be quite expensive than any brands out there, but its cost is pretty reasonable because of its superb quality.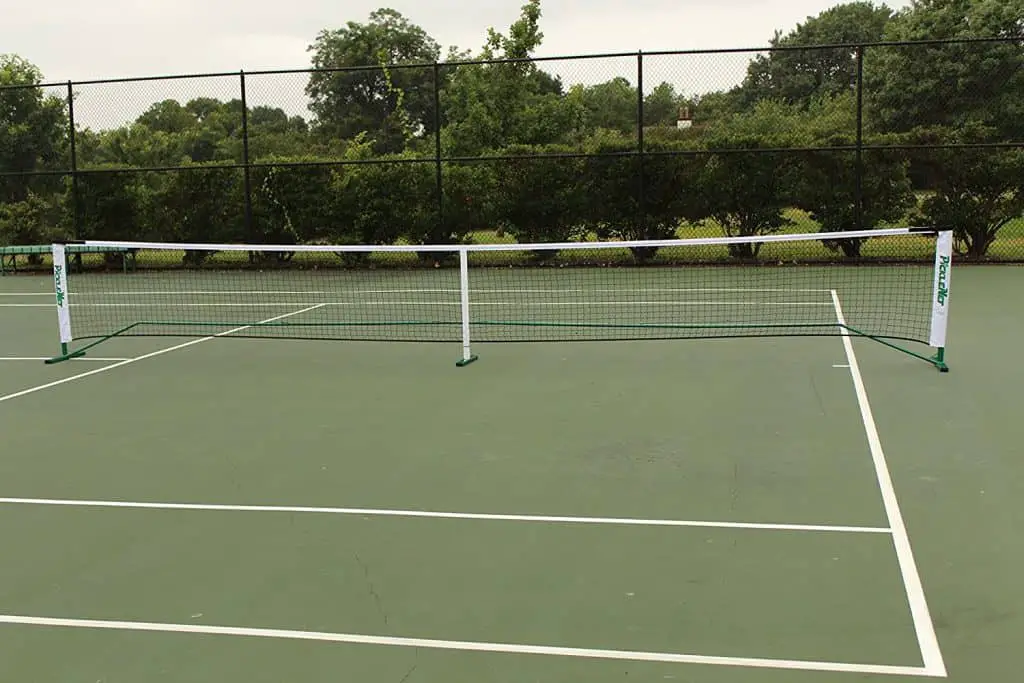 This net was meticulously made by the hands of the experts and it has undergone several tests to ensure its quality before it was released for the public. Its patented oval tubing was designed for faster set up and automatic alignment of the center frame. The proprietary elastic bottom net band also speeds up the net set up, while helping maintain consistent net tension. 
This net is perfect for indoor and outdoor use and it comes with a heavy-duty zippered duffel bag for easy storage and transport. 
Pros: durable, official standard size, oval tubing, easy to set up 
Cons: expensive 
Uwin Sports Portable Pickleball Net System 
Uwin Sports is a portable entry-level pickleball net that meets the official pickleball dimensions. It weighs 22 lbs and it has a complete frame and net system along with a carrying case for easy transport. 
You can easily set up this baby by snapping together the metal frame with locking pins and it will secure the connections in just minutes. All metal frames are powder coated which means it's rust resistant. 
Pros: rust resistance, sturdy frame 
Cons: a bit pricey