Are you looking for the best pickleball set? My friends and I are pickleball obsessed and we have compared our different sets to help you find the best pickleball sets on the market.
I've listed 12 different Pickleball Sets and this pickleball equipment – Amazon is the best place to buy your equipement.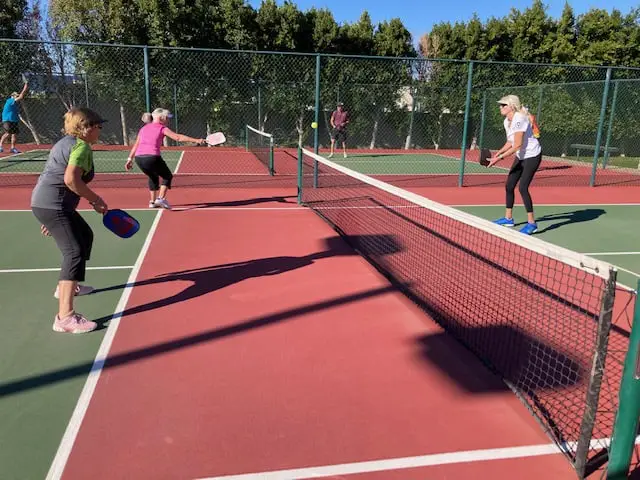 What Do You Need in a Pickleball Set?
Paddles are an essential requirement when playing Pickleball. Without it, it cannot be called a pickleball game. Now, this sport is very similar to tennis because both can be played either singles or doubles. All you need to have are paddles and balls and you can play pickleball anytime. 
There are a lot of brands that you can choose from when buying your own pickleball paddles, and some of these paddles differ in terms of weight, grip size, material, and more. Paddles have evolved throughout the years and they are now made of lightweight materials such as aluminum, graphite, and others.
This only means that paddles are not only limited to wood material which is the heaviest paddle and least expensive, but you can also have the option to go for composite or graphite paddles that are more pricey than wood paddles but definitely lighter and powerful. 
A pickleball ball has a unique shape compared to tennis balls because it has uniformly across the ball. Now, there are two types of Pickleball balls to choose from: outdoor and indoor balls. 
Outdoor pickleball balls are made of smooth plastic and contain 40 drilled holes. This type of ball is harder and heavier and because of it, it is less affected by wind. 
On the other hand, Indoor pickleball balls are larger than outdoor balls. They are also definitely lighter, softer and easier to control but hard to slam because they have more drag. 
Pickleball nets are ideal for players who do not want to go to a real pickleball court. Luckily, there are available pickleball nets that you can buy now and just set up a game in a matter of minutes in your backyards. 
The USAPA standard measurement for a pickleball is 22 feet wide, 36 inches at the sides, and 34 inches at the center.
The most affordable pickleball nets that you can probably find in the market are under $90 but you get what you pay for. These nets may be comparatively light and may be easily blown over by the wind. 
But you can always opt for a higher quality and expensive ones that would cost around $160 to $3509. But if you prefer the professional level portable nets, it will run you over $1000.
9 Best Pickleball Sets for all levels
GRM Pickleball Paddle Set
This entry-level pickleball set is perfect for beginners who still want to try out the world of Pickleball. This paddle has a polymer core that almost feels like Nomex, which means that it really brings a solid power from anywhere on the court. 
You can also have a comfortable grip on the paddle with its grip circumference of 4.3" and a length of 4.5". Its grip also features perforated and sweat-absorbent cushion that improves the comfort of the pickleball racket handle. 
It also comes with a convenient bag that can hold two paddles and balls at the same time. Overall, this is a good set for beginners or younger players who can't wield a heavy paddle. 
Pros: light, great for beginners, absorbs a lot of force off the ball
Cons: Only one color
JP WinLook Pickleball Paddle Set – 2 USAPA Approved Graphite Rackets; Portable racquet Bag and 3 Balls 
JP WinLook has been designed as an affordable pickleball paddle set without compromising high-quality. This set comes with two paddles, three balls, and a portable carry case and you'll be able to play Pickleball anytime you want. 
Even though this paddle set is affordable, it doesn't mean that the quality and features have been compromised. In fact, it features top-notch design and accessories that levels with other expensive brands. The paddles are very lightweight with only 7.8 oz and it has high end durable materials with best performing honeycomb cores that feels great to control and gives optimal hitting power. The handles feature super soft non-slippery design with elite wraps for precise grip and maneuverability. 
Thi set comes with three (3) balls that have perfect bounce and remarkable durability. It can also be used for the most aggressive pro play and minimize wind interference. 
Pros: lightweight, soft and comfortable grip handle 
Cons: surface of the paddles 
Niupipo Pickleball Paddles – Pickleball Set 4 Paddles with 6 Balls and 1 Carry Bag 
The Niupipo Pickelball paddles are all USAPA approved paddles and they have been tested and certified by their authorities. And unlike other brands of pickleball paddles that have shifted to graphite construction, Niupipo wooden paddles have remained a great option, especially for those who want high-quality paddles at a reasonable price.
The 7 plywood design weighs approximately 13.2 oz which means it's heavier than graphite paddles, but its construction makes this paddle durable and long lasting.  Its dimensions are 7.87" x 10.63", which means it provides a bigger surface for catching the balls. 
On the other hand, the handles are wrapped with perforated cushion and sweat absorbent grips for a more comfortable feel and better performance. If you are looking for a wooden paddle set that is ideal for beginners, this is a great choice. 
Pros: durable, high quality
Cons: heavy
OWN THE NET Pickleball Paddles Pro Player Tested 
OWN THE NET pickleball paddles were designed for players of any skill level – from beginners to advanced pickleball players. No wonder this brand is endorsed by pro tennis players because their paddles are made in conformity with USAPA guidelines. 
The paddle face is slightly larger compared to other paddles with a dimension of 8.3" but definitely it provides a bigger sweet spot and helps you control and hit the ball more. Not only that, what makes their paddles more unique than other brands is that it is made from patented SACtek technology, and the core is made of polymer honeycomb which delivers twice as much power every time you hit the ball. 
You'll surely have a longer good grip of the graphite paddle because it is perforated, sweat absorbent, and cushioned – which makes it suitable for both starter and pro players. 
Pros: wide-bodied paddle, longer grip handle, lightweight 
Cons: not so high quality 
Niupipo Wood Pickleball Paddles 4 Packs 
This Niupipo wooden paddle set is made from stronger basswood and with a broader surface than the other Niupipo paddle mentioned above. Its 7-ply basswood construction holds up to rough use even if you drop it multiple times it will be less likely to break. 
Although this is slightly heavier, what makes this Niupipo paddle stand out from other wood paddles is its contour cushion grip. This paddle has a comfortable grip and it includes a moisture-wicking material and cushioning that reduces the risk of paddle slipping. 
This is really a good starter pack pickleball paddles and what is nice also is that it comes with 6 high-performing pickleball balls and a convenient carry bag. 
Pros: durable, comfortable handle
Cons: heavier 
Pickle-Ball, Inc Pickleball Diller Tournament Net Set 
If you wanna get started with the world of pickleball, this one of the best starter pack pickleball sets that you can choose from. This set is ideal for families, community centers, parks, and more. It comes with 4 Diller Wood Pickleball paddle, 4 Jugs Indoor Pickleball balls, and 1 portable tournament net system with frame and net. Basically, it has everything you need for a pickleball game!
The wood paddles claim to be very durable and each wood paddle is carefully cut from high-quality 7-ply maple. They are sturdy and lightweight, which means it is suitable for any age. 
It's Diller Net System is a top-notch portable net system. It's lightweight at just 24 pounds, so you can practically carry it anywhere you want to play.  It is made from durable steel tubing that snaps together easily and you can set it up in just minutes. 
Pros: portable and lightweight, complete set
Cons: wooden paddles are not that high-quality 
Niupipo Pickleball Paddles, USAPA Pro Graphite Pickleball Paddle Set of 2 Pickleball Racquet 
If you prefer the funky and vibrant design of the Niupipo paddles but in a graphite material, this one's for you. This paddle comes from a high-quality graphite material, while the interior is constructed by polymer honeycomb and sandwiched between two sheets of carbon fiber that can resist any challenges on the court. 
This USAPA approved pickleball set has also the perfect handle size and premium grip that it feels like they become an extension of your arm. The handles are perforated, sweat absorbent, and of course cushioned for a better paddle grip and so you could play for a longer time without fatigue. 
Overall, this Niupipo paddle set is made of similar material as the high end rackets, but definitely it costs a lot less. 
Pros: high-end material, affordable, USAPA approved 
Cons: lacks that "pop" effect found in most graphite paddles 
Senston Graphite Pickleball Paddles 4 Pack 
The last but definitely not the least best pickleball set is this Senston Graphite Pickleball Paddles. It comes with 4 pickleball paddles, 4 pickleball balls, 2 racket bags, and 4 grips. 
Each paddles are made of high-tech polymer honeycomb that can disperse the pressure from all sides, making the racket stres more stable and uniform. The grip is specially designed to minimize slipping while maximizing the balance, plus it is perforated, sweat absorbent, and cushioned. 
This is a perfect paddle set for a family of 4 and you can play singles or doubles anytime and anywhere. 
Pros: easy to use, high quality paddles 
Cons: not so durable balls